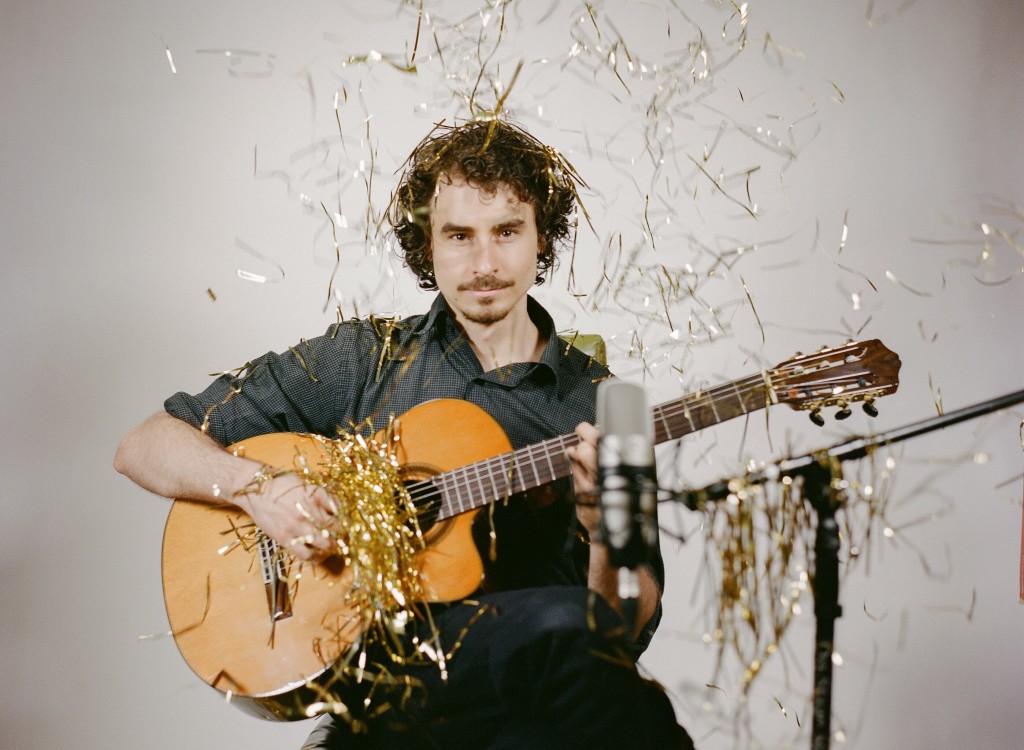 ---
---
In March, I met Adam and Austin of Blueberry Creative in their studio, located in an old downtown Wilmington building once owned by Dennis Hopper, to film my fingerstyle arrangement of "Moon River" (check it out below).  We got it done in two takes, but not before Austin doused me in a heap of streaming gold confetti so Adam could shoot the above photograph — part of a series of portraits shot on film in which Adam limits himself to just one snap of the shutter.

The first time I ever heard "Moon River," singer/songwriter Sean Thomas Gerard of Onward, Soldiers was performing it on a Monday night at the Duck and Dive, a British sports pub with a clientele far too concerned with Monday Night Football to care much for delicate Henry Mancini melodies.   I was supposed to be accompanying Sean on lead guitar, but I quickly gave up navigating the chord changes to let him sing it on his own, using Johnny Mercer's lyrics to paint an Americana landscape centered around a "wider-than-a-mile" moonlit river bend. Huck Finn was there too:

        Two drifters, off to see the world
        There's such a lot of world to see
        We're after the same rainbow's end,
        Waiting, round the bend
        My Huckleberry Friend, Moon River, and me

While arranging "Moon River," I tried to recreate Mercer's magical air by employing plenty of open-string unisons and a bell-like ending full of artificial harmonics. In the video below, there are no effects on the audio – just some good ole, all natural Dennis-Hopper-Building reverb.
Thanks, Mr. Sean, for introducing me to one of my favorite songs, and thanks for shooting it, Adam and Austin. You guys always paint a pretty picture.

.
.
---
---